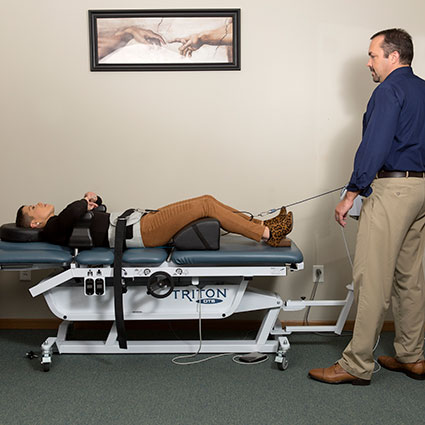 Spinal Decompression at Miller Spinal Health & Wellness Center
How Does Spinal Decompression Work?
Spinal decompression gently stretches the spine, taking pressure off the discs and nerves. The cycles of decompression, over a series of visits, promotes oxygen and nutrient rich fluids to the inside of the discs. This helps relieve pain and restore natural function. Decompression treatments last anywhere from 20-30 minutes depending on your condition.
Who can benefit from Spinal Decompression therapy?
Miller Spinal Health & Wellness Center offers non-surgical spinal decompression to help with the following conditions:
Sciatica
Neck Pain
Headaches
Chronic Back Pain
Herniated Discs
Facet Syndrome
Joint Arthritis
Degenerative Disc Disease
Get started!
Our team would love to show you how much spinal decompression therapy can change your life. Give us a call to book an appointment (618) 997-8066
CONTACT US
---
Spinal Decompression Marion, Herrin and Johnston City IL | (618) 997-8066