New Patients at Miller Spinal Health & Wellness Center
Welcome to Miller Spinal Health & Wellness Center! Please allow 30 minutes for this visit. You can access the patient paperwork online to save time, or if you prefer, come in about 20 minutes before your appointment to complete the forms in the office.
ONLINE FORMS »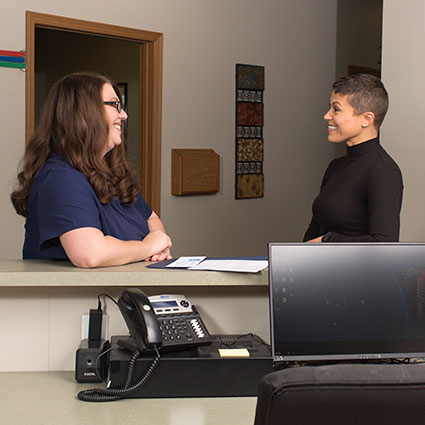 The First Visit
We encourage you to wear comfortable attire, such as athletic clothing, which allows you to move around easily during a complete functional assessment.
Consultation
After your paperwork has been submitted, Dr. Miller will sit down with you for a 10-minute consultation. He'll go through everything that concerns you and answer any questions that you may have.
Exam
This comprehensive exam will include a range of motion testing, some functional assessment, and a posture analysis. If Dr. Miller thinks X-rays are needed, we'll take those.
The Second Visit
Before you return for this appointment, which is typically the next day, Dr. Miller would have reviewed your paperwork, findings from the first day's exam and X-rays. He wants to understand exactly what's happening with you.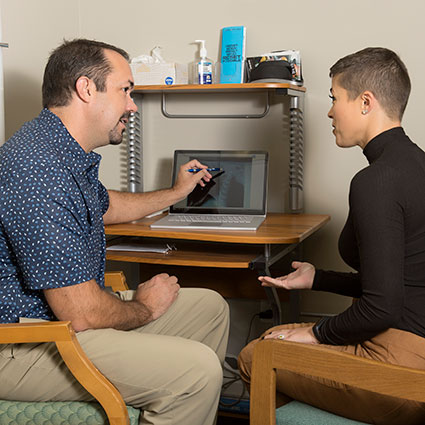 Then he'll come up with a working diagnosis and then put together a program of care specifically for your condition. Dr. Miller will go over the report of findings and his proposed care plan. He'll provide answers to these commonly asked questions:
What's wrong?
Can you help me?
If yes, how long will it take?
What will it cost?
At this appointment, we'll also go over finances, including whether you have insurance coverage or not. If you don't have insurance, we can discuss financing with you.
If you agree to the plan and want to begin care, we can start at this appointment. Please allow 40 minutes for this visit.
Ongoing Visits
At each of your regular visits, Dr. Miller will provide an assessment and possibly an adjustment. He'll also determine what therapies you may need (e.g. ultrasound, interferential, etc.).
Those therapies are usually done afterward, but sometimes Dr. Miller will schedule them before the adjustment.
---
New Patients at Miller Spinal Health & Wellness Center | (618) 997-8066